I've had bleached hair for about four years now. Can you believe that? Four whopping years of chemical processing and damage. All for the sake of a softer, better framing look that also equates to tons of effort and endless struggles and mishaps along the way.
It had been almost four years ago that I decided to walk into a random salon and attempt the "blonde" look and walked out with a semi yellow, borderline orange bob that would be the gateway to my four years of hair bleaching and color experimentation. I had been pink, purple, blue, green, you name it, I'd been there. Needless to say, there's an underlying addiction problem that I don't want to admit. But four years later, we are still here, hair as bleached as ever.
Not only has bleached hair given me the opportunity to experiment with color, it also let me express different attitudes of life. It even served as a rebellious method of my anti conventional ways against corporate oppression. (We will leave that for another discussion. :P).
Just recently I've gone grey again. This time I want to say that I love it so much despite the damage that my poor head had to endure to get here. Im in the process of growing out my bleach damaged hair, but as you continue to bleach and damage more of the new growth, it's very hard, and almost impossible to get any length. Regardless, I'm now at a little beneath my shoulders and my hair is slowly, but surely, getting longer. What I also noticed is that as your hair gets longer, it also becomes more fragile in that longer, bleached hair is more prone to breakage, and you will notice a lot more pieces of hairs clogging your shower drain.
Today I want to share with you guys some tips on growing out bleached hair and also the formula that took me to the grey color that I have now.
Tip 1: Don't wash your hair every day.
Washing your hair every day strips the natural oils and moisture out of your hair, causing dryness. One fatal damage to bleached hair is dryness. If your hair is super bleached and lacks moisture, you may find that it will break halfway towards the ends or even higher if the damage had been more serious. To combat this issue, avoid washing your hair every day. Try every other day or even every three days. On those days that you are avoiding washing, try a dry shampoo. One of my favorites is the Herbal Essences Naked Dry Shampoo. It has a calming citrus scent and really keeps my oily head manageable until the next wash.
You can purchase it
here
on Amazon, or at any local drugstore.
Tip 2: Use a protein re-constructor as necessary.
Bleached hair lacks pigment and protein, a lot of times you may find your bleached hair feeling gummy and stringy. This is a sign of over-processing and you should definitely invest in a good protein treatment to give your hair some life back. A currently favorite, also a new find, is the Nexxus Polymedic Emergency Reconstructor. My hair has really taken a toll in its recent trip to the salon, I found a lot of new breakage and parts of it felt gummy. I left this stuff on in the shower for about 5 minutes and the next day my hair felt 80% more normal. I was able to comb through it and I even dared to tug at it with very minimal hair coming out. I have yet to see the benefit of continued use, but at first try, it has definitely impressed me enough to recommend to others.
You can purchase it
here
on Amazon, or any local drugstore.
Tip 3: Avoid heat styling and and tough manipulations.
I am definitely guilty of this one. Heat styled bleached hair looks SO MUCH BETTER. But heat is also a culprit of drying out your hair. And with our brittle, bleached hair, less heat is always better. If you must heat style, remember to use a heat protectant or a light oil to coat the hair prior to applying heat appliances. Also avoid tugging, strong brushing, and anything that requires an effort on the hair. Use a wide toothed comb to de-tangle and avoid hard combing all together.
Now onto my new hair:
I was bad and used a box dye in the top 1/5 of my head when my roots started coming in. NEVER USE A BOX DYE, IT WILL NOT COME OUT. I had then used a Demi black color I got from Sally's Beauty Supply to cover that brown box dye. The results were visually pleasant, but deep down inside I knew to remove the color deposit was going to be an arduous and damaging process.
Black to purple ombre
That brings us to my current color, I decided I no longer wanted a black to light purple ombre and it was time to attempt to bleach the roots. I went in to the salon telling them to bleach my hair with a 30% developer with Olaplex added. This was left in the hair for about an hour. I knew there were going to be some banding from the permanent box dye I used, and what do you know, I ended up with huge orange bands that required further bleaching. In the second round of bleaching we went in with the 30% bleach directly in the orange sections and did not add Olaplex. Left that in for about 20 minutes and the bands were much lighter despite a hint of orangeness.
Okay, so at this point my hair has really taken a toll. I don't remember having this damaged of hair for...years. Since my last salon mishap which I don't want to bring up ever again. That was a whole mess in itself. I was not careful again and let the bleach process for too long in the hair. Parts of my hair that had overlapped bleach felt...gummy. God that's my least favorite word. -_- I decided to overlook it and just deal with it later. At this point, getting rid of the orange band and having some hair on my head is more important than having a lot of hair of my head and a huge orange band...I guess. Not to mention the assistant was raking through my hair while blow drying with a force that compelled my head to move vigorously from side to side...-_- You can imagine how much hair fell out right? Okay let's just ignore all of that and move on to the formula.
Prior to any color application my hair is now mostly level 9 and some parts 8 (orange bands) and some 10 (overlapped bleach parts). So overall it's pretty light. We went in with Kenra 7SM all over and that left my hair a light blue grey. I then went in with Lunar Tides Slate Grey in the roots and smudged it down about 2-3 inches. This stuff is the bomb, I love the shade of grey it is, a little purply and mostly neutral.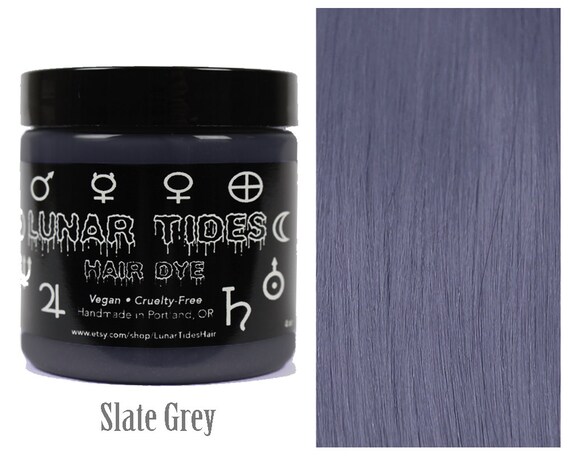 You can purchase it
here
.
After a few days of washing the shades have blended in much more seemlessly and after the Nexxus reconstructor my hair is now manageable again. (RIP to the pieces that fell out in this process, you guys will be remembered in honor.)
Slate grey to light grey ombre
I guess the final verdict is that, YES I HAVE A PROBLEM WITH BLEACHING MY HAIR. I AM ADDICTED. But lighter hair give such a different appearance and give me a much softer look that I just can't resist. Let's cross our fingers and hope I have hair left on my head in 10 years... lol.
If you want to see my hair in action you can follow me on SNAPCHAT: @lazybumtot